Interpreting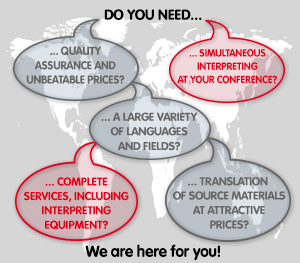 Do you need…
… quality assurance and unbeatable prices?
… simultaneous interpreting at your conference?
… a large variety of languages and fields?
… complete services, including interpreting equipment?
… translation of source materials at attractive prices?
We are here for you!
As with translations we provide you with interpreting services from and into all world languages. We also offer modern conference interpretation equipment, including the interpreter's booth.
It is necessary to realise that the normal duration of an interpreter's working day is eight hours including breaks and interruptions.
We offer the following types of interpreting:
Other services we offer:
Photo Gallery
Simultaneous interpreting at Hyundai Motor Manufacturing Czech
Pilot language: English. Output languages: French and Arabic, September 2012
Interpreting at the international conference: "Reading to children - changes lives"

The two-day international conference "Reading to children - changes lives" took place in Ostrava in April 13 -14, 2012. The conference was organised by the non-profit organisation "Every Czech Reads to Kids". Pygmalion Ltd. was honoured to provide interpreting services associated with this event.
For more pictures see the link below:
http://www.celeceskoctedetem.cz/cz/menu/644/nase-aktivity/konference-seminare/rok-2012/fotogalerie/
   
You might continue here